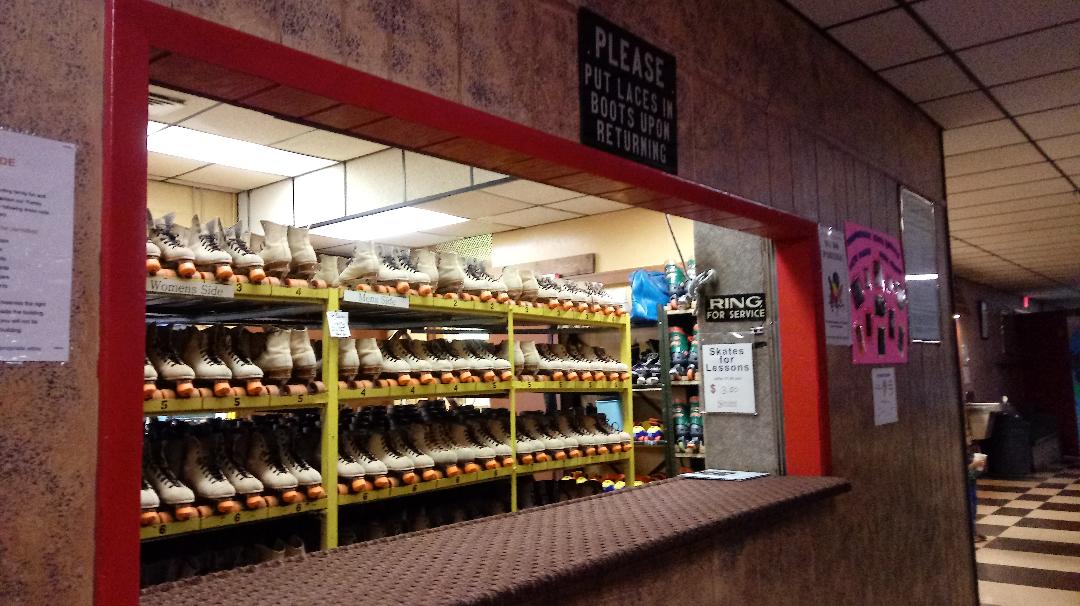 There are so many sports and activities that our kids are involved in these days. Swimming, soccer, karate, dance, gymnastics — and so many more offerings we have to choose from. But I never hear about anyone involved in roller skating anymore.
Looking back on my childhood, I can vividly remember skating being one of my favorite pasttimes. I got my first pair of skates when I was 4, from the school rummage sale. They were metal and buckled over my shoes, and I was fortunate enough to receive a new pair of skates every year or so after that.

I never owned a pair of roller blades, though. Ironically, my brother who is 2 years younger than I ONLY ever had roller blades — and by whatever age I was at the time he started skating, I was either so set in my 4-wheeled ways, or perhaps outgrowing my interest in skating or possibly just had no desire to learn how to stand upright on just one thin line of wheels. The details escape me. But I'm quite sure this proves that I'm truly in the last generation to grow up on old fashioned roller skates.

Fast forward 30 years or so… which brings me to present day; and the moment I walked into
Brookpark Skateland
and experienced a blast of 80s nostalgia overload. Here I was, back in the roller skating rink — and not a single thing had changed. The low lighting, the same spinning disco ball reflecting on the gleaming wood floors. Same old skate rental area and concession counter. DJ playing the latest music, lockers, pinball machines, and wooden booths. It was like time had stood still.

(Couple's skating, anyone? I was like I could almost hear the DJ playing "Blame it on the Rain" and smell the AquaNet in the air amid a blur of stone washed jeans.)
My husband and I were both impressed with how the entire facility appears to still have so much of the original fixtures and décor, all of which have been meticulously maintained.

Little known fact about Brookpark Skateland: they offer drop-in lessons for all ages every Saturday at noon for $5. I took advantage of this offer after discovering that trying to teach my 5-year-old how to roller skate was no easy task. I was happy to leave it to the professionals. The half hour lesson was a lot of fun for my daughter. Fortunately, she didn't mind falling — again and again and again. (Mental note: wrap child in bubble wrap prior to next class!)

The lessons are for people of all ages — this particular group had ages ranging from toddler to teen. Everyone was in various stages of learning, and those who needed the most assistance always had one-on-one with an adult helper. In the 30-minute lesson, my husband and I both could see how kind, attentive and dedicated the staff members were. They were great with the kids, and their love for teaching them was evident. My daughter made great progress and we are looking forward to returning. I absolutely love the drop-in lessons — a rare find in any sport or activity. Sometimes it's nice to be a part of something with no pressure and no commitment. At only $5 per lesson, it's an easy decision.
I inquired as to how long it might take for my daughter to learn how to skate – the answer is that each person is different, and they learn on their own time. But from what I see, I think she'll have the hang of it within a few lessons. I'm always looking for activities that we can all participate in together as a family, so I think an open skating session will be a fun time for all of us (OK, probably me more than anyone).

Brookpark Skateland has various open skating times, which can be found at 
w
w
w
.
b
r
o
o
k
p
a
r
kska
t
e
l
a
n
d
.
co
m
. The open skating sessions run $5-8 per person, with optional
skate rental for an additional $3.50.
They offer birthday party packages as well.
There is a concession stand with snacks including pizza, nachos, burgers, fries and soft drinks, with ample seating available.

Brookpark Skateland can be found at 13445 Brookpark Road, near W. 130th Street in the city of Brookpark.