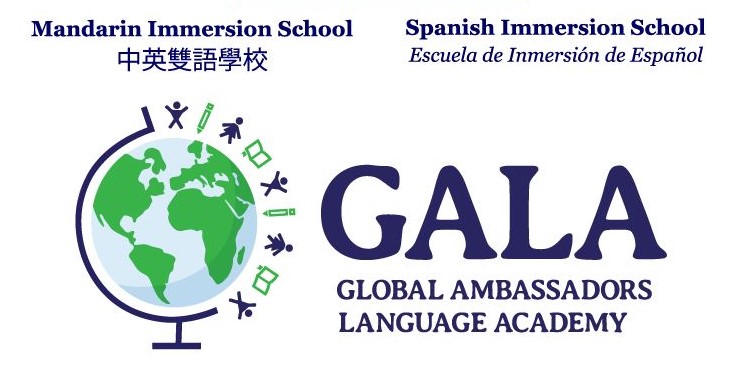 History was made this fall, as Cleveland's first international Mandarin and Spanish immersion school opened in August 2016. 
Global Ambassadors Language Academy (GALA) is a welcoming and nurturing K-8 school, committed to ensuring all students achieve lifelong academic success, bi-literacy and an appreciation for diversity, in an engaging and academically rigorous language immersion environment.
GALA is tuition-free, open to all Ohio residents, and no prior language skills are required for students to enroll. Attend upcoming open house www.GALAOpenHouse.eventbrite.com    

GALA AT A GLANCE
Students bilingual by 3

rd

Grade

Mandarin & Spanish Immersion program options

International Baccalaureate Primary Years Programme framework

Holistic approach to student success: character, social, physical, emotional, cultural and academic development

Focus on building the knowledge, skills, and attributes to be competitive in the 21

st

century global economy

Small class sizes, average 17 students per classroom

Tuition-free, public, K-8 (*now enrolling K-2 only)

Open to all Ohio residents

Before Care 7-8 a.m. & After Care 4-6 p.m.

After school Enrichment Programs: Art Club, Yoga, Dance, Music

Highly qualified bilingual teachers

Technology integrated throughout instruction in all classrooms

School-wide recycling and composting

Healthy, fresh school breakfast and lunch program

Diversity in staff and student body (race, ethnicity, nationality, income, religion, community)

Student population: 60% Cleveland, 40% Suburbs 


As a dual language immersion school, GALA provides instruction in all core subjects (Math, Language Arts, Science, Social Studies) in two languages: English and a Target Language (Mandarin or Spanish).  This evidence-based model leads to dual language proficiency in reading, writing, listening, and speaking by the end of third grade.  Students at GALA spend 70% of the day learning in the Target Language (4.5 hours of instructional time) and 30% of the day learning in English (1.5 hours of instructional time) for grades K-2 (60:40 in grades 3-5 and 50:50 in grades 6-8). 
As an international school, GALA's curriculum is aligned with Ohio's New Learning Standards within the International Baccalaureate (IB) Primary Years Programme framework. GALA students receive an international education that addresses their social, physical, emotional, cultural and academic development necessary to succeed in a rapidly globalizing world. Through the IB PYP framework, GALA emphasizes student-centered inquiry and a global perspective through the implementation of integrated thematic units across the content areas and language of instruction.
Culture of Diversity
Families enrolled at GALA reflect the diversity the school embraces and is striving to emulate. A little more than half of the students enrolled at GALA come from the city of Cleveland, and the other half from suburbs: Berea, Brunswick, Cleveland Heights, Euclid, Garfield Heights, Hudson, Lakewood, Maple Heights, North Olmsted, Parma, Shaker Heights, Strongsville, Solon, Westlake, and Willoughby Hills.  Diversity is celebrated at GALA, so that students are challenged to see different perspectives while learning how to make their voice heard. While the majority of students are native English speaking, there are also several Mandarin and Spanish heritage speakers too. But overall, all parents enrolled at GALA want the same thing for their children, and that is an educational experience at a school unlike any other in the state of Ohio, that will provide student with  life-long academic success, bilingualism and appreciation for diversity, in an engaging and academically rigorous language immersion environment.
   
Dual Language Programs on the Rise
GALA's innovative academic program is an education model that has been successful across the U.S. and outside the country, but has not yet been available to students and parents in Northeast Ohio – until recently. There are more than 2,000 language immersion schools across the country, 183 in Utah alone with programs for Arabic, French, Mandarin, Portuguese, Spanish, and more than 200 language immersion schools in New York – but in Ohio, there were only six (6) (in Columbus, Cincinnati, Dayton, Mansfield – for French and Spanish only) prior to GALA 's opening.
GALA is also contributing to efforts to grow Northeast Ohio's economic development and for Cleveland to become a more welcoming international city.  GALA attracts and retains families who are seeking innovative world class educational opportunities, while developing a future workforce for employers seeking talent for the 21st century global economy.
Testimonials
The administration, teachers and staff at Global Ambassadors Language Academy (GALA) are dedicated, passionate and truly care about the well-being of every student. The parents and families are very engaged and involved as well. The school fosters a strong sense of community and core values of responsibility, respect, safety and caring. I was concerned that learning a second language would be difficult for my granddaughter, but it's been incredible to see how easy it has been for her. She's speaking, singing, reading and writing in both English and Mandarin after only a few weeks, and she loves it! And she even learns some Spanish from the other immersion students! Enrolling her in GALA has been one of the best decisions we've ever made! – Kimberly Lafleur, Grandparent of Mandarin Immersion student
I began speaking Spanish to my children from birth. Reading stories, singing lullabies, playing games and daily conversation between us is almost entirely in Spanish. The rest of their family, friends and community communicate in English. It has been a fun, rewarding and very difficult journey.  My daughter entered Kindergarten at GALA in August as a passive bilingual. She had full understanding of the Spanish language, but when speaking only used a Spanish word here or there. Almost 90% of her spoken language was in English, even when responding to me or other Spanish speakers.  Just a couple of months after starting at GALA, she is quickly becoming an active bilingual, speaking in full sentences and choosing to use Spanish more each day. I am so incredibly proud and impressed with her progress! Every day, she is more confident speaking and writing in Spanish, spelling, singing, using grammatical structures.  No matter how much effort I put into raising bilingual children, it is an incredibly difficult task without community support & resources. Without GALA as an immersion school as an option, my children may have never become true active bilinguals who are equally comfortable speaking in both languages.  I am so excited to see what lies ahead as my daughter continues her bilingual (immersion) education at GALA. And for her little brother to become a GALA Turtle in a couple of years.  My heart is happy.  – Michelle Pizzuli, Parent of Spanish Immersion student
More than half of the world's population is bilingual, but less than 20 percent of people in the United States speak a second language. Benefits of language immersion, according to The Foundations of Bilingual Education and Bilingualism. According to evidence and research, there are a wealth of benefits for students in immersion schools, including:
Academic: Students outperform their non-immersion peers on math and reading standardized tests starting in the 3rd grade;
Language and literacy: Immersion has no negative effects on English proficiency, and students develop native-like proficiency in the second language;
Cognitive skills: Students develop greater cognitive flexibility, increased attention control, better memory, superior problem-solving skills, and enhanced understanding of their primary language;
Socio-cultural: Students develop positive multiethnic and multicultural attitudes, are better prepared for the global community, and possess 21st century skills; and
Economic: Students with competence in more than one language and culture will be better qualified and competitive for high-level, high-paying 21st century jobs.

Enroll or Visit
GALA is currently enrolling K-2 students for the 2017-2018 school year. Interested families are invited to attend one of GALA's upcoming Open Houses on Thursday, November 17 from 5-6:30 p.m. or Saturday, November 19 from 10-11:30 a.m.  RSVP to attend at: www.GALAOpenHouse.eventbrite.com. Open Enrollment begins: January 4, 2016
Can't make it to an Open House? Tours available every Monday at 9:00 a.m. Call to make an appointment or just stop by, call (216) 804-9178 or email [email protected]
GALA Videos: Watch Mandarin & Spanish Immersion Students in Action
Immersion Videos:  http://gala-prek8.org/resources/language-immersion-videos/

Links to more articles about the benefits of early language immersion education:
GALA in the News:
GALA spotlighted in FreshWater Cleveland Article
GALA on WKYC Channel 3
Like us on Facebook: https://www.facebook.com/GlobalAmbassadorsLanguageAcademy/
Learn more: www.gala-prek8.org
Go back to directory.