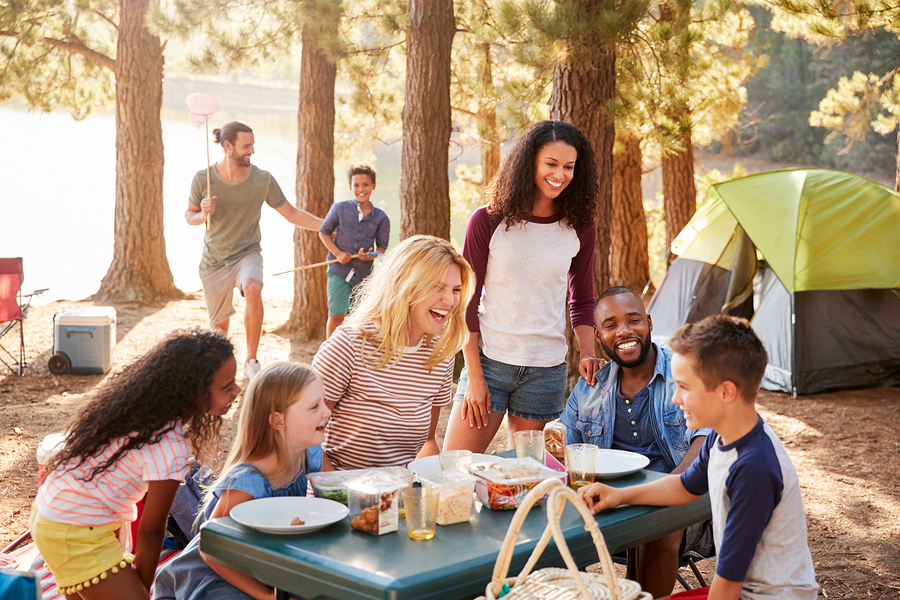 National Wildlife Federation's annual Great American Campout is in full swing and encouraging families to get outside and enjoy the great outdoors and appreciate wildlife. Camping is a wonderful outdoor experience for people of all ages and experience levels. You can camp nearly anywhere: the backyard; your neighborhood; a local, state or national park; and in cabins, RVs or treehouses.
National Wildlife Federation's resident naturalist David Mizejewski, with the help of wildlife ambassador Ranger Rick raccoon, has a few family-friendly tips for an enjoyable and safe camping trip:
Take the Time to Unplug
The buzzing and chirping of the natural world can be drowned out by those coming from our smartphones and tablets. Leave the screen time battles at home and while camping, set electronics to silent and focus on all of the beauty around you.
Observe Local Wildlife with all of Your Senses
Experiencing wildlife while camping doesn't always mean you'll see it with your eyes. Use all of your senses to enjoy the signs of the season. Veteran birders will tell you that you more often hear a bird than see it. The same goes for frogs and toads, which are experts at camouflage but quite vocal during the breeding season. Learning the calls of wildlife is like understanding a new language. What sounded like background noise before will become a cacophony of communication that you suddenly understand. Many wildlife species communicate with scent, so use your nose, too. You might be surprised at what wildlife you can detect.
Be Still
Wild animals are generally wary of human beings and will avoid us at all costs. To experience them, you'll need to follow their lead and learn how to be still and silent. That can be hard for us modern humans, who live in cities and towns with constant motion and things to keep our attention. But how wonderful is the idea of finding a secluded spot in nature to quietly sit and take it all in?
Nature's Playground
There's nothing better than a long walk in the woods and breathing in fresh summer air. Many camp sites are beside trails for nature walks and completing a hike gives kids a sense of confidence and accomplishment. To make it fun, create a nature scavenger hunt for kids to find items in nature or see who can spot and name the most wildlife during a walk or hike. Both activities are a great way to help young campers engage with their surroundings and appreciate nature.
Storytime
Sharing stories in front of a campfire is a cornerstone of camping for a good reason. Inspiration from the outdoors can put your creativity in high gear and open your imagination to new and wonderful possibilities. Encourage your children to create and tell their own stories. Pack notebooks and pens so young storytellers can take notes from their camping adventures. Wildlife you encounter during the day can provide great inspiration for fireside tales. Eerie flashlight effects are optional!
Enjoy Each Other's Company
Getting away from the normal ins and outs of our routine gives us a chance to take a moment and catch up with family and friends. Start family camping traditions such as a playing card tournament or get back to basics with a good old-fashioned game of checkers or even charades. Make mealtime a family affair with everyone helping to plan and make a food item. Enjoy a little bonding time surrounded by the beauty of the outdoors!
Take the National Wildlife Federation's Great American Campout pledge, which is free and open to all ages. In an effort to increase native tree populations critical to America's wildlife and the preservation of our great outdoors, when people commit to taking the pledge, they help make it possible for 5,000 regionally-specific native trees to be donated to the National Wildlife Federation's Trees for Wildlife program, which enlists pre-approved youth groups to make a commitment to plant and maintain the trees to ensure that they will provide food and shelter for wildlife for many years to come.
As partners in the Great American Campout, Keystone RV Co. and Yogi Bear's Jellystone Park Camp-Resorts offer everyone who pledges online the chance to win prizes in the 2018 Sweepstakes, including a 20th anniversary Springdale Mini 1800 (valued at $15,500) and a week-long stay at one of the 75+ Yogi Bear's Jellystone Park Camp-Resort of their choice (plus a $500 gift card for travel expenses and a $250 Jellystone Park gift card).