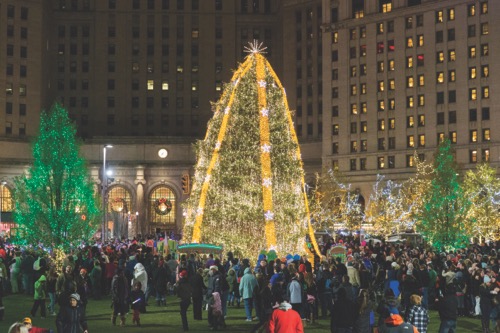 Presented by The K&D Group, Winterfest 2021 begins with the return of the holiday tree lighting in Public Square. Festivities begin at noon and include entertainment, carriage rides, games and ice skating, and more free activities from 4 to 8 p.m., including a visit from Santa Claus and a fireworks finale. Winterfest programming is made possible through the support of Bedrock Cleveland, Downtown Cleveland Alliance, Cleveland Public Power, United Rentals and a host of other sponsors.
All attendees are required to follow applicable local health department and CDC guidelines throughout the duration of Winterfest events.
WINTERFEST 2021 HIGHLIGHTS – Saturday, November 27 (with approximate start times):
o   Carriage Rides + Concessions (located at US Bank Plaza in Playhouse Square) – Advance
ticket reservations required.
o   Games in the Slick Woody's Family Fun Zone on US Bank Plaza.
o   Ice Skating on Cleveland Public Square.
o   Food trucks on Cleveland Public Square.
o   Photos with Santa on the RTA Holly Jolly Trolley.
o   Mr. Jingeling Meet and Greets at the Halle Building presented by The K&D Group.
o   Take-n-Make Crafts, Ice Sculpting and more fun at the Cleveland Public Library.
o   Living History Holiday Edition – Apartment Tours.
o   Fire pits and S'Mores Kits presented by JACK Entertainment.
o   Winter warm up activities with ASCEND Fitness and Spa.
o   Carillon Concerts at Old Stone Church.
o   Special appearances by Mr. Kringle, the Toy Soldier and friends.
o   CAVS All for Fun Tour Trailer, photo opportunities and more.
o   Winterfest dance party with DJ Shake.
o   Holiday Tree Lighting Ceremony, broadcast in partnership with WKYC, featuring Case in Point, Cleveland Ballet, Karamu House, Santa Claus, special guests and fireworks finale at 7:30 p.m.
Following the main event and all season long, a robust schedule of activities will be held through the month of February from University Circle to Public Square. For the most up-to-date happenings, please visit WinterfestCLE.com. 
SOME WINTER AND HOLIDAY ACTIVITIES TO ENJOY
Mr. Kringle's Suite – Hilton Cleveland Downtown  
Nov. 12 – Jan. 9 
With two sparkling Christmas trees, room decorations, and holiday-themed furniture, you can listen to merry melodies, read holiday stories, watch your favorite Christmas movies in Mr. Kringle's luxurious wonderland. Reserve your spot today.
A Garden Holiday at the Cleveland Botanical Garden 
Nov. 20 – Jan. 2 
Visitors will be surrounded by beautiful holiday plants and trees from evergreen conifers to poinsettias at A Garden Holiday. From Dec. 12 to 19, be sure to enjoy breakfast with Santa at the Botanical Garden.
Cleveland Foundation Skating Rink in Cleveland Public Square
Nov. 26– Jan. 17
Bring the entire family to Public Square to ice skate in Downtown Cleveland's premier outdoor space. Pre-purchased timed tickets are available.
Winter RiverFest at Merwin's Wharf
Nov. 26 – Jan. 2 
Visit Rivergate Park and Merwin's Wharf to see festive light displays, a beer garden, retail shops and an ice rink. Guests can also reserve a private igloo for a meal on the patio of Merwin's Wharf.
Mrs. Kringle's Suite at Hotel Indigo
Nov. 12 – Jan 10 
Hotel Indigo Cleveland Downtown debuts the Mrs. Kringle Suite for guests to book – lavishly furnished with festive Christmas décor, a letter from Mrs. Kringle, cookies and milk, holiday movies, and specialty robes.
Holiday Events at The Ritz-Carlton, Cleveland
Gingerbread House Village: Nov. 26 – Jan. 1
Teddy Bear Tea: Dec. 21 – Dec. 22
Christmas Eve Dinner: Dec. 24
Holiday Tea: Dec. 28– Dec. 29
For event information and availability, please contact the hotel at (216) 623-1300 or visit RitzCarlton.com.
Nov. 27 – Jan. 1
JACK Cleveland Casino decks the halls of the historic Higbee building with fun and festive decor.
Living History: Holiday Edition 
Nov. 27: 3 p.m.
Guided tours will lead you down Euclid Avenue to view four luxurious apartments in four iconic properties; Residences at Halle, The Residences at 668, The May, and the new The Terminal Tower Residences, while enjoying a guided historic Cleveland tour. The last stop features the Observation Deck in Terminal Tower overlooking Public Square, where you will enjoy dessert, cocktails and cocoa!
RTA Holly Jolly Trolley and Holiday Trains
Nov. 27: Noon – 8 p.m.
Don't miss the RTA Holly Jolly Trolley featuring Santa on board for an immersive holiday experience.  Follow the red, green, and blue line holiday trains around town as they travel throughout Cleveland all season long.
Meet Mr. Jingeling at the Halle Building
Nov. 27 and Dec 4:  Noon to 6 p. m.
Usher in the holiday season with a bit of Cleveland magic as The K&D Group brings Mr. Jingeling for meet-and-greets in the Halle Building. A cultural icon whN has been unlocking imaginations since 1956, Mr. Jingeling bestows magical keys to all he meets.
Winter Warmers at the Key Bank Pavilion 
Nov. 27: 10 a.m. – 9 p.m.
Head to the Key Tower pavilion on Mall A to warm up around firepits while enjoying a hot cocoa station and cash bar. Fire pits will be on all day with a cocoa and cash bar opening at 3 p.m.
Winterfest at the Library – Cleveland Main Library
Nov. 27
Visit Cleveland Public Library for free family Winterfest activities!
Noon – 3 p.m. – Reindeer Farm
2 – 4 p.m. – Winter Ice Sculpting
3:30 – 4:30 p.m. – Take-n-Make Crafts
Toy Soldier Show – Cleveland Public Library- Main Branch (Louis Stokes Wing) 
Nov. 27: 5-5:30 and 6–6:30 p.m.
The Toy Soldier is a Cleveland treasure who has touched the hearts of thousands of families. Join him this Winterfest at the Cleveland Public Library and be a part of this cherished event.
Light it Up! at Allen Theatre, Playhouse Square
Nov. 27 – Dec. 22
Light It Up! the musical, features original pop, rock, gospel, and jazz holiday tunes and new arrangements of Christmas favorites by Tony Award-winning composer Jason Michael Webb. For tickets, please visit here.
Downtown CLE Christmas Walking Tours
Nov. 28 – Dec. 26: 4 – 7 p.m.
See Cleveland Christmas historical delights like Higbee's Twigbee Shop, Halle Bros. Mr. Jingeling and the Sterling-Lindner Christmas tree! Tickets are $20, and reservations are available at Toursofcleveland.com.
Langston Hughes' Black Nativity at Karamu House
Dec. 2 – Dec. 23
Karamu Players offers "the Gospel Song-Play" known as the Black Nativity. Designed for you to add the music of your choice (from spirituals to traditional carols or your original compositions) and dance, this thrilling holiday piece will have your audiences on their feet!
Cleveland Ballet's The Nutcracker at Playhouse Square
Dec. 3 – Dec. 5
Not to be missed – the Cleveland Ballet's magical production of The Nutcracker returns to Playhouse Square's Connor Palace with five performances.
Ice Skating and Circle Fest at University Circle
Dec. 3 – Feb. 21
Skate on the circle at the University Circle Ice Rink from December 3 through President's Day weekend. Circle Fest will also feature music, carriage rides, art and free museum admission on December 5, 2021.
Santa Paws at Haymarket Pet Company
Dec. 4: Noon-3 p.m.
Snap a photo of your leashed furry friends with Santa! Santa Paws will be at Haymarket Pet Company in Suite 36 of the 5th Street Arcades.
Cleveland Public Library Storytime and Hot Chocolate with Santa
(Saturdays) Dec. 4– Dec. 18: 2-4 p.m.
Cozy up on Public Square to hear a holiday story from the Cleveland Public Library. Meet Santa and enjoy hot chocolate on December 4, 11 and 18, from 2 p.m. to 4 p.m.
(Saturdays) Dec. 4 – Dec. 18: 2-4 p.m.
Visit Santa Claus in Public Square on Saturdays and Sundays! Santa will be waiting to hear your winter wishes near the Moses Cleveland Statue.
Bright Lights, Reading Nights at Cleveland Public Library
Dec. 10: 6 p.m. – 8:30 p.m.
Take in stories, hot cocoa, mochas, and popcorn with special guest hosts and more in the Eastman Reading Garden.
Dec. 18 – Dec. 22: 8:30 a.m. – 7 p.m.
See Scuba Claus during special meet-and-greet days at the Greater Cleveland Aquarium.
#WinterfestCLE at the Rock & Roll Hall of Fame
Dec. 18: 10 a.m. to 10 p.m.
The Rock Hall is hosting a fun holiday-themed event with live music from Ohio City Singers, festive food and beverage options, fun photo opportunities, merch specials for last-minute holiday gift shopping and more!
Cleveland Institute of Music Choir
Dec. 18: 3-4 p.m.
Listen to music from this local group near the skating rink in Cleveland Public Square.
Trans-Siberian Orchestra at Rocket Mortgage FieldHouse
Dec. 30: 3-8 p.m. 
The Winter Tour is back for 2021! A portion of every ticket sold benefits St. Augustine Hunger Center, compliments of 98.5 WNCX, Minute Men HR, Live Nation and Trans-Siberian Orchestra.
For the most up-to-date information regarding Winterfest in Downtown Cleveland including holiday experiences, dining, and retail opportunities, please visit WinterfestCLE.com.