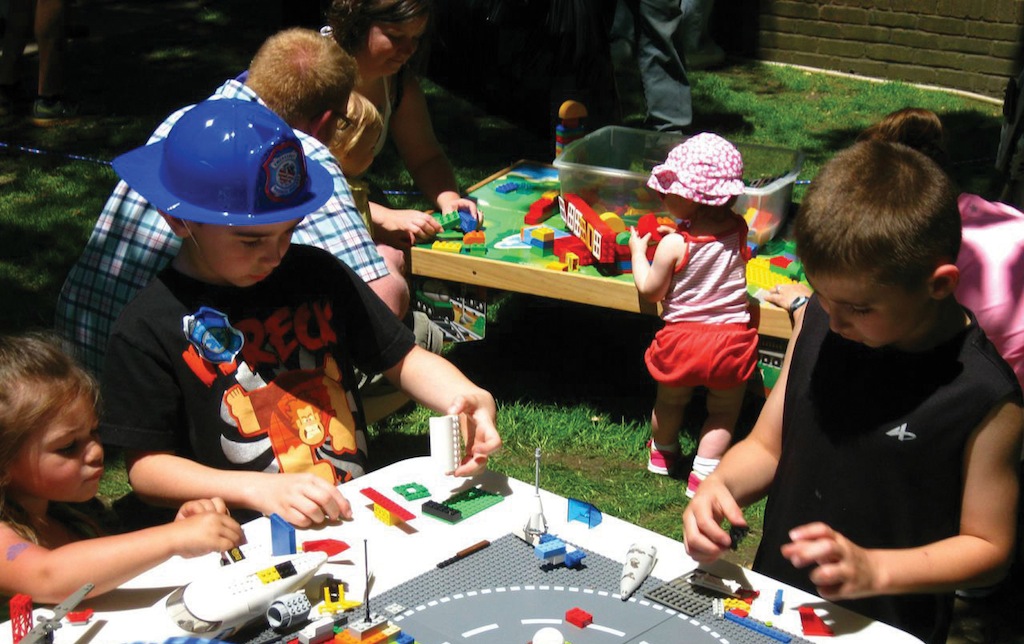 Medina offers something for everyone, from its idyllic town square, lined with unique shops and local restaurants, to dozens of surrounding parks and a score of special events. There are plenty of family-friendly options both indoors and out, allowing residents and visitors to find the perfect activity throughout the seasons.
Retail Therapy
For dozens of unique, locally-owned shops located within walking distance of one other, visit Medina's Public Square. For the crafty at heart, check out Potomac Bead Co., All Fired Up! or Studio Knit. Score a vintage find for your home at Perfectly Charming or Rustic & Refined. Second Sole is a runner's paradise – offering shoes, apparel and other running paraphernalia – while The Raspberry and The Rose and consignment store 4 Ladies & More carry a wide array of clothing, jewelry and accessories. Opened last fall, Molly's Closet carries unique and designer new clothing for babies, toddlers, tweens, teens and adults.
Children will love the wide selection of unique toys at Medina Funtastic Toyz. For your budding train enthusiast, don't miss Ormandy's Toys and Trains, which also is home to the Medina Toy and Train Museum. Add to your child's collection by dropping into Medina Sports Cards. Woodsy's Music can meet all your school band needs, from sheet music to instruments and everything in between.
Finally, don't leave Public Square without a tasty treat. Options include gourmet popcorn at Something's Popping; oils, vinegars and more at The Olive Tap; baked delights at A Cupcake A Day, Cool Beans Café or The Bakery Shoppe; and a self-created masterpiece at Lemonberry Frozen Yogurt. You also can pick up something for your furry family member at One Lucky Dog Bakery.
Just a short drive from Public Square is Bennett's, which features swing sets, gazebos, outdoor furniture and more – though your little ones may be most interested in the on-site (and aptly-named) Smartickles Educational Toy Store.
Dining Destinations
When it's time to refuel after some grueling shopping, stay on the square for plenty of options, including town mainstay Main Street Café, kid-friendly Dan's Dogs, or breakfast and lunch staples Eli's Kitchen and Marie's Café. Thyme2 and Dominic's Italian Restaurant, each just a block away, offer extensive menus.
Other unique fare options include the lavishly decorated Miss Molly's Tea Room; House of Hunan, which offers Chinese, Japanese or Thai selections; Sully's Irish Pub, which often hosts live music; P.J. Marley's, where your family can dine inside the former bank building's vault; Lager & Vine gastropub, perfect for wine or beer enthusiasts; and Huth & Harris Wine Merchants, which offers a tasting room and tapas menu.
Travel outside the Public Square district for even more locally-owned options, including Yours Truly; One Eleven Bistro; Mexican joints Tres Potrillos, Don Tequila and Fiesta Jalapenos; or sushi houses Project Sushi, Twiisted and Sushi on the Roll. For a fine meal and perhaps an extra surprise, visit The Corkscrew Saloon, which is rumored to be haunted.
Living History
Founded in 1818, Medina offers many points of interest for history buffs.
The County Courthouse, built in 1841, is on the National Register of Historic Places and survived the fires of 1848 and 1870, which destroyed most of the business district (it took 10 years to rebuild the area in a Victorian style).
Another must-see is the A.I. Root Co., founded in 1869 by Amos Ives Root. The business, which put Medina on the map as the "beekeeping capital of the world," is still headquartered in the city and offers shoppers 75+ different varieties of scented candles, plus home décor, specialty food items and more.
In-depth area information can be found at the Medina County Historical Society, located in the historic John Smart house at 206 N. Elmwood St.
You also can put Medina's history at your fingertips by downloading the free Medina Historical mobile app (discovermedina.org). Developed by the Center for Public History + Digital Humanities at Cleveland State University and Medina City Schools students, the app lets you explore the people, places and moments that have shaped the city's history.
Educational Fun
The Medina County District Library – with six branches throughout the county, including a location on the city's Public Square – offers rich programming for all ages year-round. For information, visit mcdl.info.
Broaden your children's – and your own – horizons by enrolling in an art class at Artventure Studio (artventurestudio.squarespace.com) or cooking class at Cool Beans Café (coolbeansmedina.com). For adults, the Medina County Career Center (mcjvs.edu) offers a wide variety of arts and crafts courses, from painting to cake decorating to refinishing furniture.
The Great Outdoors
The Medina City Parks & Recreation Department maintains 14 parks. For example, Fred Greenwood and Ray Mellert parks, each home to a splash pad during warmer months; Memorial Park, which offers a fenced dog park and larger-than-life wooden play structure; Roscoe Ewing Park, which includes a disc golf course; and Sam Masi Park, which boasts a handicap-accessible playground. Reagan Park offers several unique features including a skate park, remote control car track, and mountain bike trail.
Several of the city's parks feature tennis courts, ball fields, pavilions, walking trails and playgrounds (visit medinaoh.org/government/departments/parks for details).
For indoor exercise, the Medina Community Recreation Center offers a fitness room, competition pool, leisure pool – complete with fountains and a slide – a jogging track, and a field house with four full-size courts. Hours, rates and class schedules are available at medinarec.org.
Events & Festivals
Medina hosts several regular events throughout the year, beginning with February's Ice Festival and ending with November's Candlelight Walk. In between, this year's major events include: Kids Day of Play on June 6, Pizza Palooza on June 13, Art in the Park on July 19, Medina International Fest on Aug. 22, Medina Beer Fest on Aug. 29, and the Medina County Fair, scheduled for Aug. 3-9.
Recurring events sure to please music lovers include Rally in the Alley, Friday evenings from May 29 through Labor Day; Jazz Under the Stars, scheduled for June 6, July 11, Aug. 15 and Sept. 5; and the Medina Community Band's weekly concerts on Public Square, held Friday evenings in June and July. For event information, visit mainstreetmedina.com.