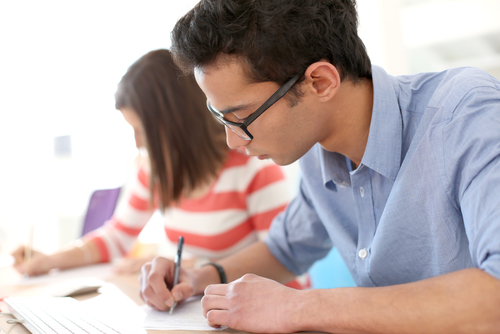 Summer is here and it's time to shed that backpack and officially put all things academic aside, right? Not just yet. For rising juniors and seniors, this is actually a great time to focus on preparing for fall ACT and SAT exams. The first ACT and SAT exams for 2016-17 are given soon after the start of the school year, so students should take advantage of this time without other academic obligations to focus on test preparation. Here are some questions and answers to help your teen decide on the best fit.
Q. Should I use a book, online tools or work with a tutor?
Answer: While there are many print and online resources available, even some that are free, it's important to remember that a tool is only good when it's used. For example, if someone has a gym membership but never picks up a weight or steps on the treadmill, they aren't going to be any more fit. The same is true for test prep. Students should set aside actual study time if they are planning to work independently on their test prep. A main differentiator between a prep book and an actual tutor: books don't require you to read them and participate, but your tutor will. Your tutor will also know whether you've completed the practice problems they've assigned, while the recorded prep videos won't have any idea that you've come unprepared for "class."
Q. Is a test-prep class better for me, or should I work one-on-one with a tutor?
Answer: Some students find that they excel academically in group settings, while others prefer the ability to have classes tailored to their individual subject-area needs. In a class setting, students have the opportunity for peer support, while one-on-one sessions provide students with instruction that is customized to their individual needs and areas for improvement. No matter which option a student chooses, it's important to remember that studying outside of classes or sessions is imperative.
Q. How far in advance should I begin preparing?
Answer: Most test prep experts recommend students study a minimum of 10 hours for an exam to see any increase in scores. The larger the score increase a student is seeking, the more hours they should expect to put in. This means students planning to take exams in September or October, and who can commit to at least one hour of prep per week, should begin preparing by July. The earlier test prep begins, the more hours a student can get in by the test dates.
Q. Do I need to take practice tests?
Answer: Timed practice exams not only provide the student with an idea of what to expect on the test, they also help students get a feel for the pacing needed. Many companies (or check your local library) offer free, timed practice exams with detailed score reports highlighting one's strengths and areas of opportunity.