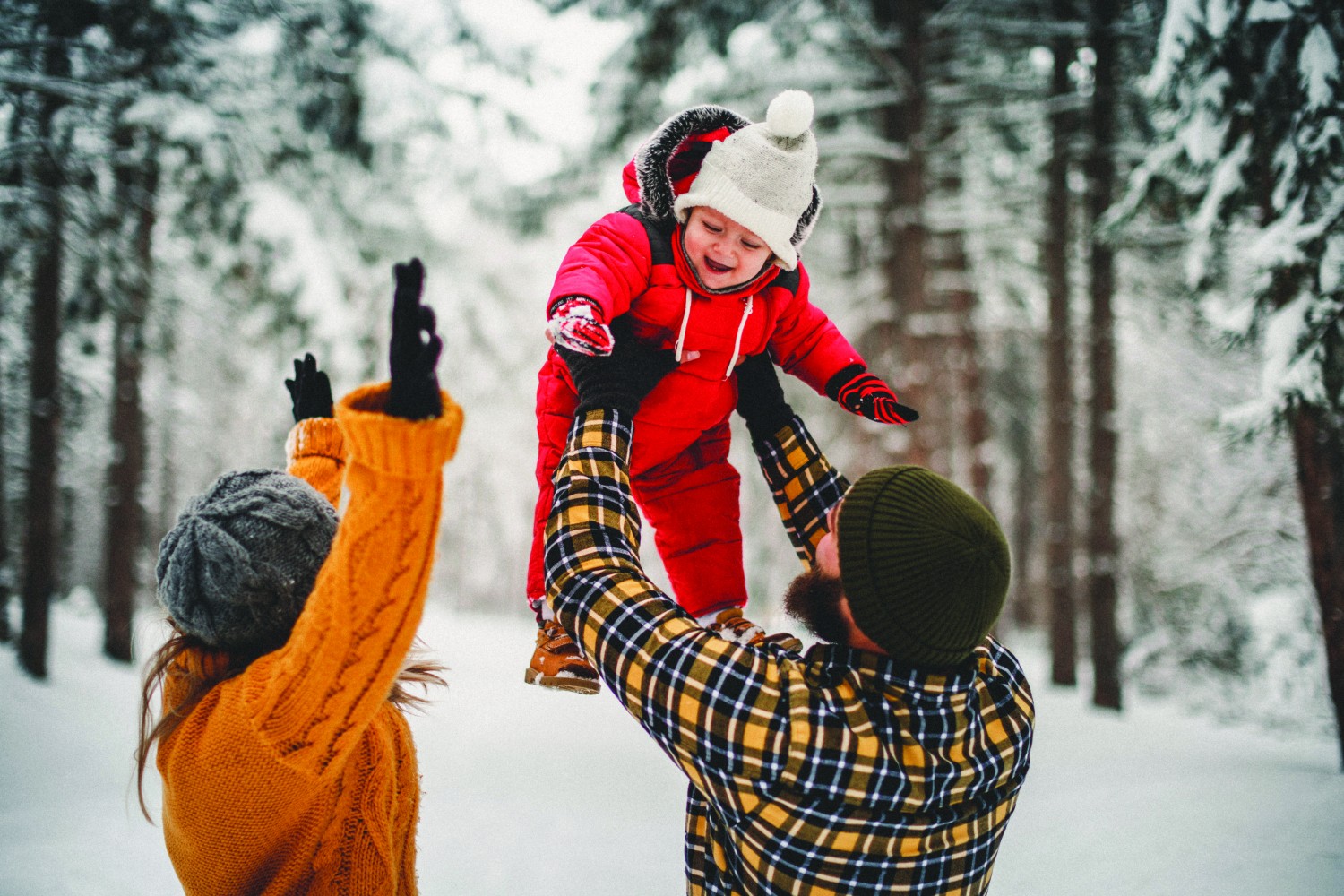 Winter is upon us in Northeast Ohio, which means a change of apparel. It's time for layers upon layers of clothing not only for us, but for our children, too.
As parents, we know the most important thing is to make sure our children are snug, warm and safe from winter's frosty grasp. But that doesn't mean we can't still make them look fabulous, right? 
Fortunately, there are many fun winter trends geared toward babies this year.
Let's start with waffle sweaters, one of the biggest trends for babies in 2020. Waffle knit sweaters are woven into small little patterns that look like mini breakfast waffles.
For boys, pair a waffle sweater with a good pair of baby jeans. For girls, grab those knit tights and swing skirts.
Cleveland mom Calli Roberts-Mulvey has an 1-year-old baby named Stella. She says she loves styling Stella for winter. 
"It's all about layers," Roberts-Mulvey says. "A cute top with a cardigan over it, (or a) vest, sweatshirts, and a warm hat for any occasion."
Roberts-Mulvey says she sees a lot of stores carrying baby clothing that look like adult clothes. 
"Seeing a baby dressed in jeans, boots and a flannel gives me all the heart eyes," Roberts-Mulvey says.
Little Footwear
You can't talk about winter in Northeast Ohio without discussing boots. Whether it's Uggs or Muck Boots, there are a lot of options for baby booties. 
Unfortunately, boots often don't stay on their little feet, but luckily there are companies out there who are trying to make our lives easier. 
A company called Ten Little has podiatrists and pediatricians creating its shoes, so they can support your little one's feet and make sure they stay on.
And then there are Squid Socks, created by an engineer after seeing so many babies remove their own socks. They have silicone inside the cuff, which prevents your baby from taking them off.
If your baby isn't walking yet, does he or she really need shoes?
"For most babies, barefoot is best for development of early walking and pre-walking skills," says Dr. Kimberly Churbock, pediatrician at Cleveland Clinic. "Soft-soled shoes like moccasins or grippy slipper socks are good options if you need a little extra coverage between tiny feet and cold floors."
Cold Protection 
If you're heading outdoors, don't forget baby coats or snowsuits. Just make sure you don't have your child wear one in his or her car seat.
"For winter car rides, babies and toddlers should be dressed in warm but thin layers,"  Churbock says. "Bulky or puffy clothing and coats can compress in the event of a crash and leave too much space between baby and his or her car seat straps."
One option, she adds, is to place your child's coat on backward over top of his or her already secured car seat harness. 
Churbock also recommends external car seat covers. They keep your baby warm and protected, especially when you're carrying him or her from the car to your destination. Just make sure you can always see your child's breathing and comfort. 
New parents also have a plethora of options for hats and mittens for their babies. Crocheted sets are very popular right now, as are matching mommy-daughter beanies. 
As for gloves, it's a good idea to have two or three sets in your diaper bag, since babies are amazing at removing those, too. Don't be ashamed if your little one is driving home with mismatched gloves. That happens to the best of us. 
By the way, mitten clips are a perfect solution to this problem. Simply attach your child's mittens to his or her coat sleeves, and you're all set for a winter walk or a car ride to run errands. 
Let's be honest, though. As cute as it is to see babies in their winter gear, we're not really keeping them outside in Northeast Ohio winters. Snap that cute sled picture and bring your little one back inside.
Sleep Wearables
But what about bedtime? It's important not to have toys, pillows or blankets in the crib with our babies until they are 1 year old. So how do we keep them warm?
"Consider dressing your baby in layers similar to what you wear to bed, plus one additional layer," Churbock says. "Wearable blankets and sleep sacks are an appropriate option for that extra layer."
Fortunately, fleece is always a fashionable option. Consider fleece crib sheets or fleece-footed pajamas. 
Just make sure you buy pajamas with zippers. Have you ever seen a sleep-deprived parent try to figure out snaps or buttons in the dark? It's hard enough in the daylight, so make it easy on yourself and buy the zipper pajamas.
Here's the best part about baby trends: You don't have to spend a fortune to make your little one look fashionable. There are some great deals at places like Carter's, Target, H&M and Amazon. And don't forget thrift shopping.
Kayla Palko-Smith of Berea works at University Hospitals and owns a baby bow company called A Lil Love Bows. She says she has always been a big fan of thrift shopping for her two-year-old daughter, Aubree.
"At first I thought I would never buy secondhand for her, but then I went in and couldn't believe how much I was able to get," Palko-Smith says.  "I have found so many nice items and name brands too, including Nike, Adidas, Under Armour, Carhartt and North Face."
Honestly, who cares about what's popular this year? As long as your little one is safe and warm, have fun with their style. 
Remember, the baby phase doesn't last forever and one day they're going to tell you their opinion of the outfit you bought for them. Until then, delight in the dazzling and stylish outfits you can create from the closet while cooped up inside from the cold. 
Then layer up and enjoy the enchantment of the winter season and the look of wonder on your child's face as she catches snowflakes on her tongue… and on her clipped-on mittens.
Jessica Dill is a broadcast journalist turned blogger. The Cleveland native, an award-winning TV news anchor and reporter, is taking a quick break from television to be home with her husband, Michael, and their new baby, Vivian. Learn more at jessicalynndill.com.