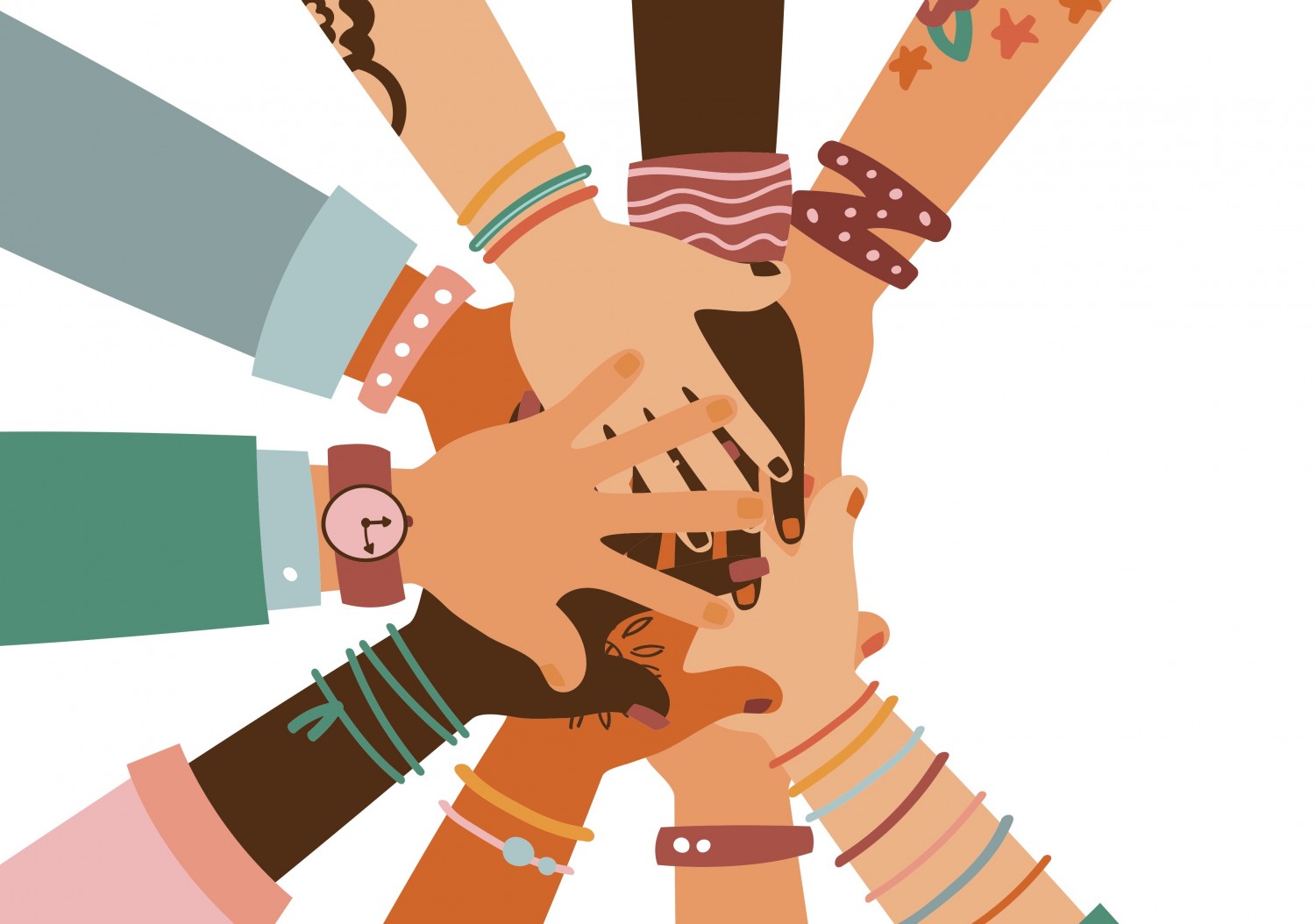 As parents, we want our kids to model kindness, understanding and empathy. In today's diverse world, a large part of that is being aware and sensitive of other cultures. No matter the age of your children or the community in which you live, there are many opportunities to introduce and teach cultural diversity in a fun, respectful way.
"When we learn with and about people who are different from us, we actually strengthen our own cultural identity — we call it using a cultural mirror," says Sam Chestnut, head of school at The Lippman School in Akron. "When I learn about, or ideally with, someone who is different than I am, I also learn about what we have in common; the differences and similarities are equally valuable and important."
Referencing the protests and counter protests that took place in 2020 and the Jan. 6 Capitol riot, Latecia Wilson, manager of arts education at Karamu House in Cleveland, says it's critical for Americans to work to change the biases in our country.
"That change starts with our children," she says. "It's important for kids to learn about other cultures, races and religions because our country depends on it. Each parent needs to think about the type of world they want their children to inherit and know that we can help make the impact that will change the tides."
Sometimes, that's easier said than done, depending on one's community and personal experiences.
"Unfortunately, not all of the environments that children live in are diverse," says Meran Rogers, founder and executive director of Global Ambassadors Language Academy, a charter school in Cleveland. "The reality for most families is that it's hard to find diversity. People tend to gravitate toward like-minded or similar people, or the people that are within their immediate surroundings. 
While this seems OK — after all, people need to have a community in which they're comfortable and be around people to whom they can relate — if they just rely on immediate surroundings, they may not have the opportunity to learn about other cultures or races, she says. 
"It's so important to be intentional — especially with children — with the way our world is now and will continue to be," Rogers says. "We're all so connected through technology, travel and movement of people; the world has become a smaller place. If you aren't aware of different types of cultures and races outside of your neighborhood, then you're missing a lot."
Highlighting Cultural Diversity
Whether you live in a community with limited diversity, or you just aren't sure when or how to begin teaching your kids about other cultures in a respectful way, the good news is that with a little thought and effort, your family can raise culturally-accepting, global citizens.
Rogers suggests that parents begin with a self-assessment regarding all the things they are intentional about in raising their children: what they eat, what they watch, what they listen to, how much exercise they're getting — "and how they are raising children who are culturally aware of and sensitive to other races and cultures." 
"For me as a parent, and also through my school administration, being culturally aware and sensitive is a basic need, so it's just one more area to make sure my child is getting enough of what they need," she adds.
Wilson says the first step is to understand the goals you have for your children while considering their ages and interests, then find appropriate resources to share with them.
"Once the child begins to have exposure, you want to have honest conversations about what was seen," she says. "Allow them to practice asking questions about differences so that they gain that information in a safe space with a parent; then when they go out into the world, they have confidence in knowing that they're approaching situations with appreciation and respect.
"It's OK for parents to say, 'I don't know the answer, let's research it together,'" Wilson adds. "Parents should work on being examples of how to approach cultural differences and make sure they're being respectful of whatever the experience is."
Dahlia Fisher, director of external relations for the Maltz Museum of Jewish Heritage in Beachwood, offers several fun ways to explore other cultures with kids.
"Host an international day at home by creating your own festival with an environment of fun," she says. "Using food is the best way to introduce culture to anyone, young or old. You don't have to be an expert on a culture to try a new recipe."
Fisher says even picky eaters can join the fun by trying international candies — which can be found online, in specialty stores, at World Market and other retailers, or by monthly subscription. 
"One of the great joys of exploring other countries is through the cuisine," she explains. "Take turns letting each family member pick recipes. Cook together and talk about the different spices or ingredients. Find photos of that country to look at while you're sampling the food. Look for international playlists on Spotify, then listen to music while you try the foods or have a dance party." 
Chestnut says the most powerful teaching tool is the opportunity to meet with people who are different from us.
"While textbooks and stories are helpful, to actually take the time to connect with diverse communities and learn with them — and have them learn about you in a reciprocal manner — is the most powerful," he says. "If you're a parent looking to deepen your family's experience with diversity and cultural awareness, it's important to develop relationships with people who are different than you. Look for institutions or organizations whose missions are about cultural awareness or diversity, or to specifically promote cultural awareness of some underrepresented group. Figure out how to get involved, whether it's attending events or volunteering."
Cultural Lessons by Age
As with teaching your kids anything, the style of learning and topics addressed should vary by age. You can introduce cultural appreciation to toddlers and preschoolers, develop it during the elementary years, and deepen the dialogue with middle schoolers and high schoolers.
Chestnut says when kids are young, it's mainly about exposure. 
"You don't have to unpack the similarities and differences in a deep way, you can just experience it," he says. "That will create a foundation for what will happen later in middle school years, where kids can really begin to ask important and deep questions, and explore what is different and important about cultures." 
Wilson recommends that parents start with stories, especially for preschool through elementary-aged kids. 
"Look for stories that are based on the aspect of a culture you want to learn about," she says. "Folk tales are always great to read and discuss the meaning behind the story. One of my favorite books we've used across the board, just broken down in different forms for each age level, is 'Children of Blood and Bone' by Tomi Adeyemi." 
Celebratory, holiday-focused activities are a great way to engage young kids, Fisher says. 
"Food, candy, music, art, dancing — these are all joyous perspectives," she says. "It's fun to taste new flavors and hear new sounds."
As kids get older, they may be less open to new experiences — so it's important to still make learning fun so that it doesn't seem like schoolwork, she adds.
"Find a balance where there's a little more depth, but it's still fun," Fisher says. "Find opportunities to explore cultural diversity within their interest area: cooking, art, theater, dance, sports, inventors, fashion, etc. Of course, the ultimate goal is to get on an airplane and go see it in person."
The bottom line is that when it comes to teaching kids cultural diversity, no age is too young to begin and the method can be tailored to each family. Set out on a journey to learn with your kids, and you'll find the whole family can become culturally enriched.
"When we celebrate our differences, we also find our commonalities," Fisher says. "There's so much richness in exploring other people's views of the world. It makes our tapestry."
The schools and community institutions mentioned in this article offer many ways to deepen an understanding of other races, cultures and religions. Here are a few:
"The obvious way is through language immersion, but the reality is you can't separate language and culture. When you're learning a language, you should learn about that culture, too. We celebrate culture and diversity; anytime there's a holiday, all students celebrate it — not just the children in that language program. From such a young age, our students are aware that there are other languages, other cultures and other heritages in the world."  — Meran Rogers, Global Ambassadors Language Academy, galacleveland.org
"We present professional theater and arts education to all people while honoring the African American experience. Our programming is centered around cultural aspects and many of our events are followed by a panel discussion or dialogue because we do understand that the African American experience is a unique experience in a lot of ways, but there's also universal aspects that can be explored in order to reveal similarities. We're very sensitive that our white patrons who come in know they are never penalized or made to feel guilty about the past just because of the color of their skin. Having those open conversations lets everyone gain an understanding of one another's stories." — Latecia Wilson, Karamu House
karamuhouse.org
"Our student body is diverse and reflects our West Akron community. We develop educational partnerships with those who are different than us but have some shared values in terms of education. The best example of that is our 10-year partnership with the Northern Cheyenne community (in Montana). They have a sacred homeland, sacred language, cultural practice and a community with a different organizational structure. So when our kids go to the reservations and learn from tribal elders and students their own age, they can use that cultural mirror to see into that group of people. And what makes it even more special is that the Northern Cheyenne students, educators and tribal elders come here and learn from us; they get to see our community." — Sam Chestnut,The Lippman School, thelippmanschool.org
"The Maltz Museum is rooted in Jewish value of respect for all humanity. We seek to find voices that express not only the celebrations and joys of different cultures, but also the struggles and resiliency of the human spirit to persevere, to maintain dignity. We offer young family programming designed for kids in pre-K through age 10. Those early childhood programs are designed at the celebratory level, embracing each other and considering how you fit into the larger context as an individual. We talk about your ability as an individual to influence positive change, that no act of goodness is too small. For older kids, we work in schools (currently through Zoom programming) or in the museum for school programming. We work with students in grades sixth through 12th through our 'Stop the Hate' programming."— Dahlia Fisher, The Maltz Museum of Jewish Heritage, maltzmuseum.org
Culture Dose
Broaden your family's horizons at these museums, organizations and neighborhoods.
Akron Art Museum, akronartmuseum.org
AsiaTown Cleveland, asiatowncleveland.org
Cleveland's Clark-Fulton Neighborhood, metrowestcle.org/clark-fulton
Cleveland Cultural Gardens, clevelandculturalgardens.org
Cleveland History Center, wrhs.org
Cleveland's Little Italy, littleitalycle.com
Cleveland Museum of Art, clevelandart.org
Cleveland Museum of Natural History, cmnh.org
Cleveland's Slavic Village, slavicvillage.org
Djapo Cultural Arts Institute, djapo.com
Julia De Burgos Cultural Arts Center, juliadeburgos.org
Karamu House, karamuhouse.org
The Maltz Museum of Jewish Heritage, maltzmuseum.org
Rock & Roll Hall of Fame, rockhall.com
Talespinner Children's Theatre, talespinnerchildrenstheatre.org
West Side Market, westsidemarket.org