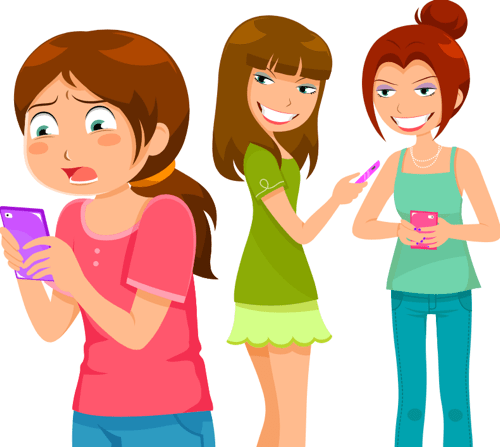 When we grew up, bullies were sometimes known to torment kids on the bus, steal lunches, pull girls' hair during gym class or gossip behind our backs. Back then, teachers may have seen it happen and could intervene.
"Today, adolescents are actually seeing it in writing on the internet for all their peers to see, too," says Tira Stebbins, a clinical psychologist in Solon.
"One of the most common behaviors I see is when students post pictures from parties to intentionally hurt the feelings of students who were not invited," says Jennifer Bencko, school psychologist at Chagrin Falls Middle School. "This impacts victims even more because they feel so vulnerable."
Tweens are very focused on peer acceptance and are fixated on feeling like they belong. says Kelly Stukus, mother of two and curriculum consultant.
So what's a parent to do when they see their child feeling down, struggling with "mean behavior" from their peers? It's impossible to shield your child completely and while we would prefer it never happens at all, learning to persevere through such situations and to live amidst people like these are actually important parts of growing up.
Raise a Kind, Confident, Independent Thinker
Preparing your child to withstand this sort of behavior — or to not become the bully themselves — actually starts very early on in their lives. It is paramount that you practice what you preach and continue to do so as your children transform into teens.
Raise your children to understand the impact they have on others and to believe in themselves. "Help them learn to discover their inner self and teach them to stand up for that," says Michelle Koehler, a mom of four children ages 18, 16, 14 and 11.
Monitor Social Media
Parents who are oblivious to what is going on online often are blind-sided by bad situations. While you can't possibly see every Snapchat or Facebook post or know everything they are reading or seeing, it is important to observe and limit social media use as best as you can.
"Follow your child on social media, keep the lines of communication open and watch for behavioral changes in your children," Bencko says.
Phone use by tweens should not be unsupervised. For those just starting out with tweens, Stebbins suggests that parents create a sort of contract when they first give their child their own phone. Lay out your expectations specifically. Ensure that your child understands that the phone belongs to you, the parent, and that you are giving them the opportunity to borrow it. That way, if it is misused, you have an easier way to take it away from them.
Listen Without being Critical
What about if your child already has experienced an incident and is feeling emotional and vulnerable? Stebbins recommends doing lots of listening.
Let your child vent and then offer confirmation of their feelings. Be careful not to be too critical.
"As parents, we want to swoop in and solve the problem," Stebbins says. "It's usually best to think of yourself as a coach, to problem solve together and collaborate on ideas."
Talk to them about which friends make them feel good and contribute to their happiness versus those that make them feel bad. Even consider doing some role playing to help them find the words to address the situation next time they see the culprit.
Intervene When Necessary
If "mean behavior" escalates from a child not including your daughter or son to humiliating them time and time again despite your child's efforts to ignore it, you may be dealing with full-on "bullying."
When you've tried everything and the behavior is not stopping or is getting worse, it may be time to intervene. But do be aware that you run the risk of the situation potentially getting worse before it gets better. Be diligent, but not so much that your child feels as though they've lost all their independence. Try to have faith in all the love you've given them and the good qualities you've instilled in them all along.
When in doubt, share with your child these very wise words from a bright 12-year-old: "Don't make yourself into someone else to please someone who is judging you. Make yourself be you, because the friends you love… love that person."