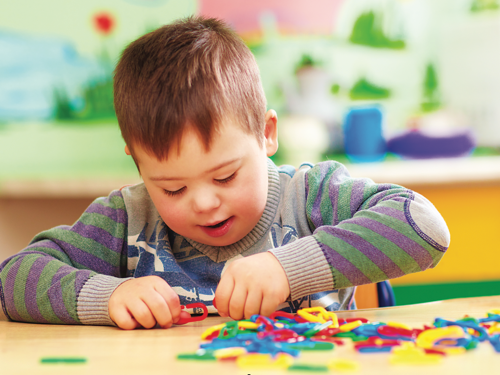 If your toddler has been diagnosed with special needs, early intervention is available to ensure their educational needs are met prior to starting preschool.
Lisa Curtis, an elementary special educator with the Cleveland Municipal School District, has navigated the process both as a professional and as a parent of triplets who received early intervention during infancy.
"In the best-case scenario, if your child has special needs, getting started with (programs such as) Help Me Grow before age 3 will help address issues during this critical learning period and aid in a more seamless transition into the school system," Curtis explained.
Help Me Grow is a program funded by the state that's available free of charge to families with children from birth to age 3. Parents can request an evaluation personally without the need for a physician's referral.
According to Lori Maygo, general manager of assistive technology and children's services at the Cuyahoga County Board of Developmental Disabilities, joint visits with Help Me Grow and other community partners enable the board of developmental disabilities to build a comprehensive list of services for kids in early intervention, addressing three separate categories: social, emotional and relationships; children acquiring knowledge and skills; and taking action to meet their needs.
"We work with the families wherever their natural environments are," Maygo says. "So if their issues are with their child not being able to participate in community activities, going to the library or going out to eat, that's where we go. If their issues are transitioning to and from car rides or to the grocery store, that's where we go."
The objective of early intervention is to help transition families to whatever destination they feel is most appropriate for them after they age out of the program, whether it be a public or private preschool, Head Start, child care or home schooling. Parents with children at age 2 1/2 can go to organizations such as Help Me Grow to explore options available.
When a child who participates in Help Me Grow ages out of the program on their third birthday, additional resources are available through adulthood by contacting the county's board of developmental disabilities.
Maygo says the county provides home- and school-based support to eligible children ages 3 and older once they leave the early intervention program if they are eligible for special education including behavioral support, curriculum adaptation, assistive technology, speech and language, occupational therapy and physical therapy — and the families can choose to have help in one or both of those environments.
Working with the Schools
"Because it's tricky to detect so early on, a lot of kids on the autism spectrum get diagnosed a little bit later — oftentimes after enrolling in a preschool program," says Colleen Shin, Midwest community outreach director for Autism Speaks. "Social skill challenges are really hard to see in a child age 3 and younger. A lot of typical toddler behaviors like parallel play mimic what is pretty consistent and common with a child of autism."
An Individualized Education Program, also known as an IEP or a 504 Plan, can be a common next step when a child with special needs reaches age 3 and when the family chooses a school for the child to attend.
A team, which includes the parents, teacher, preschool intervention specialist, occupational therapist, physical therapist, speech pathologist, school psychologist and other school officials, determines the child's needs within the academic setting and type of accommodations.
"Different school districts operate differently as far as what types of programming and classrooms they offer for children with a variety of different special needs, so it does vary from district to district; but they are bound by law to serve children who qualify for an IEP," Maygo says.
Private preschools could have an itinerant teacher who works for the county's educational service center to monitor the child's IEP or 504 Plan while visiting between districts.
Parents should talk to school officials before the child begins their preschool program to ensure their child will have a plan during the school year.
Shin says Autism Speaks provides state-specific resource guides for parents and more than 40 toolkits — among them, a First 100 Day toolkit parents can use for guidance in the initial months of a diagnosis and an IEP toolkit parents and teachers can refer to together.
Costs of Preschool
In Curtis' case, the county office proved invaluable, offering outside services and helpful extras that offset her day-to-day child-rearing costs.
"For example, a lot of children with special needs (may not be)potty trained by the time they enter preschool, but if you have your child's doctor sign off on it and meet the needs of the program, they even provide Pull-Ups," Curtis says. "There are many different things you can qualify for based on your child's and familial needs."
Shin explains that the Autism Response Team is a free resource available to professionals and parents — whether it's a first call for help or financial planning for an adult with autism, and everything in between.
Private insurance and Medicaid managed healthcare plans may pay for additional services including physical, speech or language therapists who can work with a child while empowering his parents with exercises to enhance mobility, language and speech.