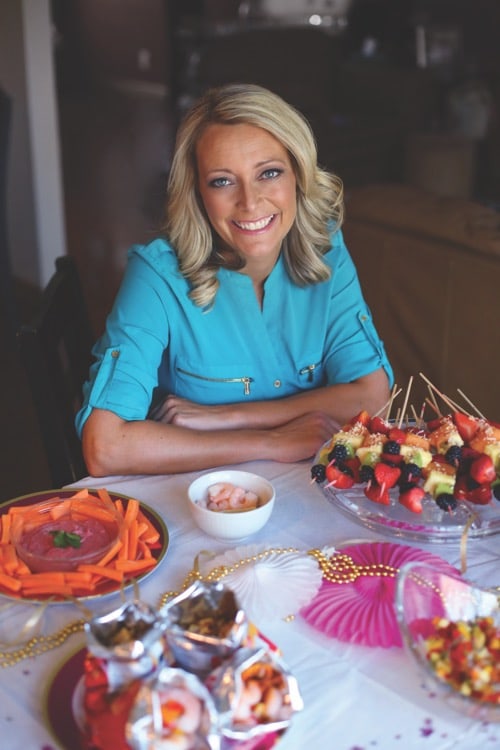 "Entertaining is in my blood," jokes newscaster and Northeast Ohio native Jen Picciano, who recalls her mother's "epic" Christmas parties during her childhood spent in Euclid and Chesterland.
Before graduating magna cum laude from Ohio University, where she simultaneously studied broadcast journalism and Spanish, making large pans of lasagna helped her maximize a coed's lean budget while satiating her fellow students en masse.
Learn about Jen
Jen Picciano spent four years as an anchor at KJTV in Lubbock, Texas, before returning to Cleveland as a member of the morning team at Cleveland 19 News. While she has been a journalist at WOIO for about a decade, her interest in cuisine intersected with her broadcast career when she created the Emmy-winning program called Cleveland Cooks, which spotlighted her preparing popular restaurant recipes in the kitchens of some of the city's most cherished chefs. During that time, she helped organize Cleveland Cooks for a Cause, a charity cooking competition held annually at The Fabulous Food Show in mid-November.

Although the segment was shelved, you can still benefit from the breadth of Picciano's culinary exploits on her Cheftovers blog and Instagram account. It offers snapshots of her life as an avid home chef and her adventures near and far as a cooking competition judge and journalist with an affection for all things edible. Her weekly CLE Feed update airs on Q104 during Jeremiah & Jeff's Friday morning show, providing the latest in local food news. When she's not at work or pursuing her passion project — interviewing chefs for a book she's penning about our city's culinary culture — you'll often find her at home cooking for her family, which includes husband Ben Stocum and daughters Natalie, 5, and Julia, 3.
Hosting a Party with Ease
Juggling a busy professional schedule with a brimming social calendar has made Picciano a pro at appropriately scaling the difficulty of her menus and choosing items that are appealing to all ages in attendance.
"When it comes to feeding a crowd," she says, "I try to plan things that can be prepared ahead of time, so I can actually enjoy myself at my event and not be stressed out. You should be part of your own party."
Warm weather celebrations are the perfect occasions for incorporating handheld recipes that come together quickly, travel easily and don't require dishes so parents can focus on friends and family, not the food. "There's nothing worse than getting stuck manning a grill or on constant clean-up duty," Picciano says.
She provides the perfect feast for any occasion, blending fun, colorful and easy-to-clean up treats for the kids — and unique, tasty party fare built just for the adults.

STARTERS

Roasted Beet Hummus
INGREDIENTS
1 large beet, roasted and sliced
2 cans chickpeas, rinsed and drained
2 cloves garlic
2 T lemon juice
⅛ cup water
1 ½ tsp. salt
¼ tsp. sesame oil
½ tsp. cumin
¼ tsp. black pepper
½ cup olive oil
DIRECTIONS
Preheat oven to 375°. Pierce the beet with a fork, drizzle it with olive oil and season generously with salt and pepper. Wrap loosely in foil and place in the oven until the beet is fork tender (about 50 to 60 minutes, depending on size). Let it cool, then peel and slice. Add all the ingredients, except the olive oil, to a food processor and blend until combined. Gradually pour in the olive oil and blend until smooth. Taste and adjust seasoning if desired. If it's too dry, add more olive oil and pulse in the food processor until you achieve desired consistency.
Rainbow Party Kabobs

INGREDIENTS
2 cups each of: strawberries, cantaloupe, pineapple, kiwi, blackberries (slice all but the blackberries into bite-sized pieces)
¼ cup toasted coconut flakes
¼ cup honey
Wooden skewers
DIRECTIONS
Assemble the kabobs by sliding the fruit onto the skewer in the order listed above. Brush the kabobs with honey, then sprinkle with coconut flakes.
TACO TIME 
(each recipe makes enough for a small party)

Walking Tacos — kid-friendly!
INGREDIENTS
Individual, snack-sized bags of chips such as brands like Fritos, Doritos etc.
2 lbs. ground beef
Homemade taco seasoning (see recipe below; or use a store-bought packet)
½ – ¾ cup water
Shredded Mexican cheese blend
Salsa
Sour Cream
DIRECTIONS
Brown meat, then drain. Add taco seasoning and water, cook another five minutes. Open the chip bag and crush the corn chips a little, until they're more bite sized. Add a generous spoonful of the taco meat, and top with cheese, salsa and sour cream.
Eat it right out of the bag!
* Homemade Taco Seasoning
2 tsp. granulated onion
2 tsp. salt
2 tsp. chili powder
2 tsp. cumin
½ tsp. chipotle chili powder (optional)
½ tsp. garlic powder
¼ tsp. dried oregano
Walking "Ceviche" — for the adults!

INGREDIENTS
Individual, snack-sized bags of chips such as Cool Ranch  or Nacho Cheese Doritos (You also can put a handful  of tortilla chips in a bowl for a base)
2 lbs. salad shrimp or cooked cocktail shrimp
2 avocados, pits removed and cut into large chunks
Pineapple salsa (see recipe below)
Sour cream
Chopped cilantro (optional)
DIRECTIONS
Open the bag of chips and gently crush them into bite-sized pieces. Add a spoonful of shrimp (or 4-5 cocktail shrimp). Top with pineapple salsa, sour cream and avocado.
Pineapple Salsa

INGREDIENTS
1 cup finely diced pineapple
1 cup finely diced red pepper
1 cup finely diced orange pepper
2 T finely diced jalapeño pepper, seeds removed (add more if you like it spicy)
2 T chopped cilantro
Juice of 1 lime
Salt to taste
DIRECTIONS
Combine all ingredients and toss. Refrigerate until ready to serve. I think it's better on day two, so this is an easy make-ahead item.
Tricia L. Chaves is a "hair raising reporter" who splits her time between writing and and her Thousand Locks Charity project to increase awareness about hair donation among stylists and improve the availability of free wigs for women and kids with cancer. A former style and beauty editor, these days she's more likely to be wearing her toddler on her back than makeup on her face. You can follow the adventures of her foodie family on Planes, Trains and All of Our Meals at ptaom.com.