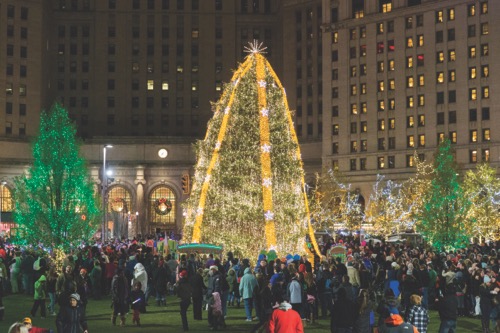 Spending the day exploring the holiday lights in and around Cleveland's Public Square has become an annual outing for our family. Last year, we grabbed dinner at the downtown Heinen's, then worked our way along Euclid Avenue to the heart of the city. We peeked in the Arcade to see the lights (and to warm up) before venturing back into the cold, past the Soldiers' and Sailors' Monument on Public Square.
We try to find a new-to-us spot each year to add to our holiday visit list. Ready to add to your own list? Here are a few family finds to explore this season.
1. Lace Up Your Skates
Take your pick — or let your kids — between ice skating downtown in Public Square, Going to The Rink at Wade Oval, or enjoying the new Holiday Skating Rink, presented by the Cleveland Monsters, at Crocker Park. Beyond these popular rinks, there are plenty more to choose from, including indoor finds, like Kent State's Ice Arena.

2. Go Running in Your Favorite Bunny Suit
Have your kids already been to A Christmas Story House in Tremont? The house, immortalized in the offbeat classic holiday film, is open for tours. But this year try something new by running along with other bunny-clad enthusiasts (Aunt Clara would be proud!) as part of the A Christmas Story 5K/10K Run. Held on Dec. 2, the run begins at 9 a.m. on the corner of Ontario Street and Huron Road in Cleveland.
3. Enjoy the Holiday Music
Hum along with some of your most-loved holiday tunes while being introduced to new favorites. There are plenty of spots around the area to enjoy concerts, including the holiday concert lineup from the Cleveland Orchestra in the renowned Severance Hall. And, with so many local radio stations playing holiday music throughout the season, it's a good time to discuss your all-time favorites with the kids on the way to family-fun events.

4. Build Toys
Tucked into Tower City, Kringle's Inventionasium lends itself to wannabe elves. Kids and parents become part of the toy-making team at Mr. Kringle's secret toy lab. Or go to the Island of Misfit Toys at the Akron Art Museum. At this free event, kids are encouraged to transform pieces of broken toys into one-of-a-kind sculptures. Kids also can build toys at Lake Metroparks Farmpark's Toy Workshop.
5. Attend a Hanukkah Candlelighting
Celebrate Hanukkah by singing songs, learning how to play dreidel and much more at the Maltz Museum of Jewish Heritage on Dec. 13 from 5-6 p.m. Expect plenty of cookies as part of the celebration.

6. Introduce Kids to Toys of the Past
Show your crew some of the favorites from when you were a kid. At Cleveland Heights' Big Fun Toy Store, you'll find toys going back decades so you can introduce your kids to everything from He-Man to She-Ra. You also might plan a trip to an area comic book store – like Carol and John's Comic Book Shop in Cleveland or Rubber City Comics in Akron.
7. See a Holiday Show
It's not quite the holiday season without a retelling of Charles Dickens' classic tale of greed versus gratitude through the likes of Ebenezer Scrooge, Bob Cratchit and of course, Tiny Tim. "A Christmas Carol" will be playing at Playhouse Square's Great Lakes Theater, as well as a musical version at Weathervane Playhouse. There also are plenty of other holiday shows and fun at local theaters around the region.

8. Check Out a Holiday Light Display
GE Lighting's annual holiday lighting display in East Cleveland's Nela Park (Dec. 1- Jan. 1) has become somewhat of a landmark. The park itself has been closed to the public since 1958, meaning visitors had to gaze at the lights from outside the gates. But for 2017, the event's 93rd year, those gates will be open and you can drive through with your family
(Dec. 8, 15, and 22 from 6-9 p.m.). Also check out the local park systems to find more ways to see the holiday lights — or head out for a drive around the region.
9. Ride Away
Trains are a staple of the season, whether your family has one that circles the tree, or part of your traditions include watching the holiday movie "Polar Express" or looking at the train display in a nearby store window. Have your kids ride the rails to Santa's house at Ohio Station Outlets, or take a trip with the Cuyahoga Valley National Scenic Railroad.

10. Eat Holiday Cookies
Several bakeries in Northeast Ohio start filling their display cases with colorfully decorated sugar cookies just for the holidays. One area favorite is Sweet Mary's Bakery in Akron (right near the library). Owner Mary Hospodarsky got her start in the bakery business making holiday cookies — and she's now perfected them with an array of snowflake, Christmas tree, wreath and other designs, including the big guy in red himself.